Whilst puppeteering you can find yourself stuck in a very awkward position for quite some time, This can be caused by many things the camera being re positioned, lighting being repositioned or the director be made his special earl grey cup of tea which the tea bag has only been left in for 7 seconds. I KID YOU NOT! On set recently myself and three other puppeteers, Will, Jonny, Joel were stuck in a box waiting for a good half hour for these things to be done. All we had to amuse ourselves in this time was some gaffa tape. But see the endless amount of fun you can have with gaffa tape! We made ourselves look like historic bad guys!
JONNY SAB Adolf Hitler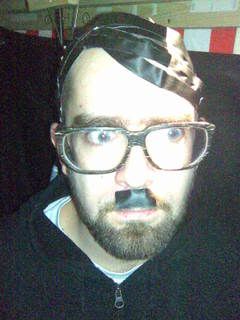 WILL HARPER AKA Benito Mussolin
JOEL CADBURY AKA Genghis Khan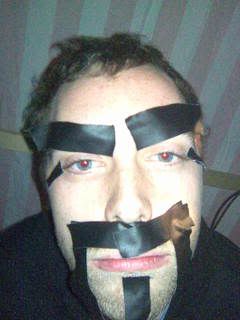 MARTIN COLLINS AKA Bin Laden
This is one of Simon's ads I puppeteered on recently. The infamous Bin!!